Tweezers are hit and miss, they're personal preferance and what works for you might not work for someone else.
They need to work for you and ensure they guide you to some bomb ass sets, the weight, the grip and the sweet spot differs for every single pair you buy and thats a fact.
Your tweezers are the make or break of your set, especially if you are handmaking fans! They must have good grip and be versitile on fan making. There are so many ways to manipulate them and using this to your advantage.
Our tweezers come in a magnetic padded box and this is where we reccomend keeping them when they're not in use!
---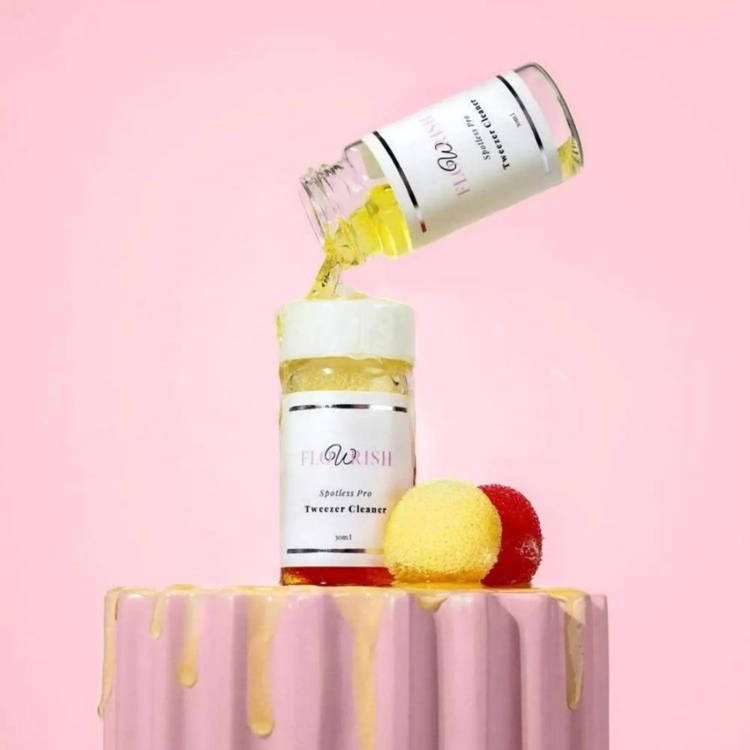 Tweezer Tips
Clean your tweezers before and after every use with tweezer cleaner, and never leave them to soak! Especially not in acetone based products or Barbacide/Saloncide, it wears away at the paint/metal which results in a shorter life of your tweezers.
Click here to see tweezer cleaner in action.
Oh and always have a back up pair, incase you drop them.🤯
---
See below our 3 new tweezers that dropped this week!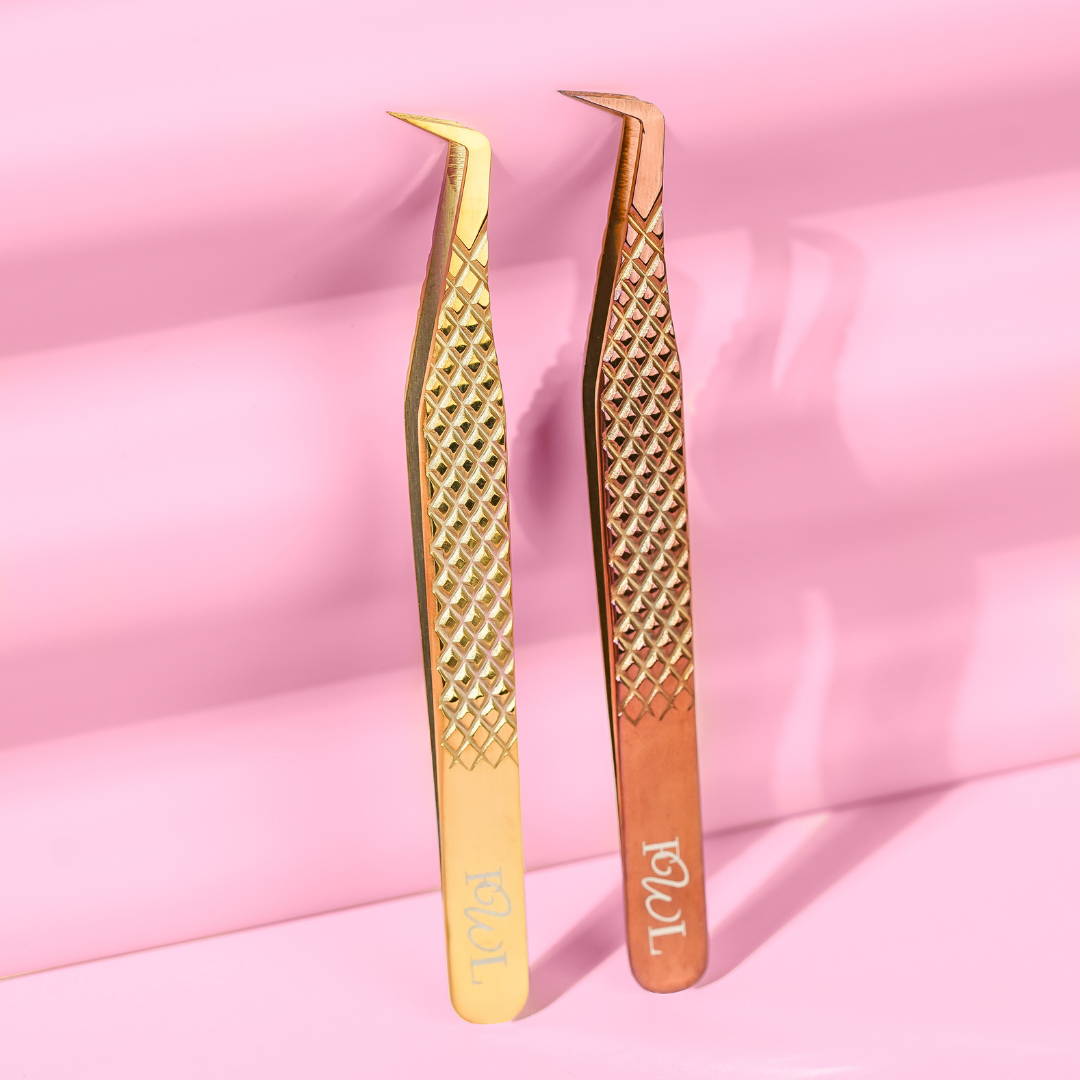 90 Degree Slim
Designed to create a perfect fan every time with the least amount of effort. The slim tips of this tweezer allow for an extreme precise pick up. The ideal grip will allow you to find the sweet spot effortlessly.
The interior of the tips is tapered and designed just right to ensure fans are blossomed just right. The diamond grip will give you stability and allow you to focus on really getting that sweet to create the most even fan.
45 Degree Boot
Designed to pick up even the smallest of lash. This tweezer is perfect for creating the perfect handmade fan. Pick up 2 lashes or even a large bundle, this is the tweezer for the job.
If your pinching the fans or using the shimmy method, this is the tweezer you want. It's grip will ensure you never miss. The unique shape of the tips are ideal for tiny lashes and will assist with any pick up.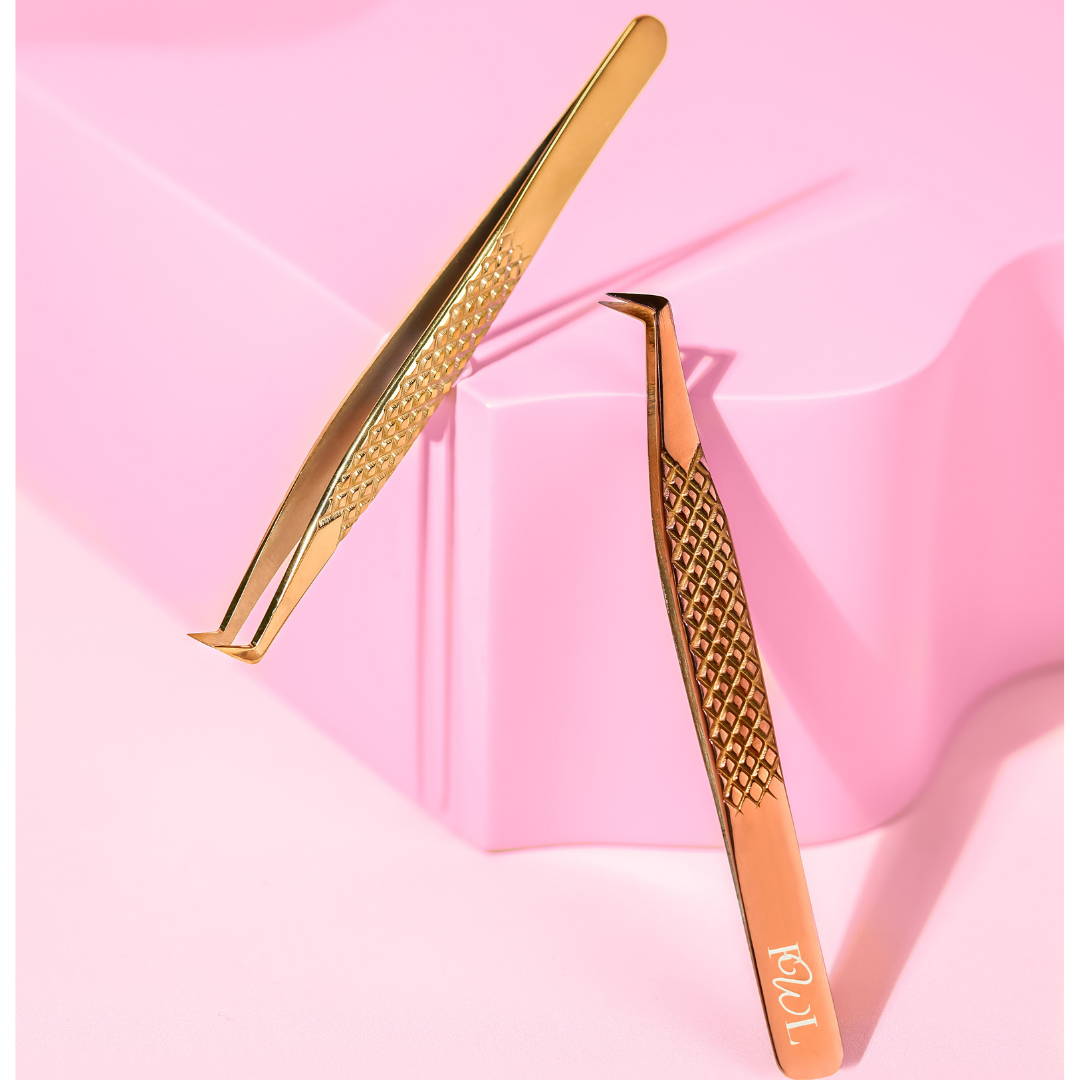 90 Degree Boot
Our Boot 90-Degree Tweezers are designed to create a well bloomed fan with the least amount of effort. The ideal tool for fanning, this lightweight tweezer sports a specialized sweet spot you'll find immediately.
No volume technique is too much (or too little) for this specialized tweezer. It's thick and stubby tips allow for a great grip for every pick up!
---
---
"What's your best tweezer, can you recommend any?"
Yes we can recommend, but it might not be the one thats best for you, tweezers are trial and error for sure! Our best sellers are the Mega J and Isoaltion tweezers.
"Whats the difference between diamond grip and smooth finish?"
Smooth finish allows for a gentle grip allowing you move freely when needed. It allows you to pick your perfect hand positions. Diamond grip is sturdy for those who desire that. It keeps your grip locked in and keeps you lashing effortlessly
"Where is the sweet spot on your tweezers?"
All tweezers are different, here's a video that may help:utm_content=DAE8WhBpKTg&utm_campaign=designshare&utm_medium=link2&utm_source=sharebutton
"How often should you get new tweezers?"
Whenever you feel like it and when they start performing differently. If you notice a difference maybe its time to replace them.
"Shall I use straight or curved isolation tweezers?"
This is complete personal preference again, its best to trial and error all tweezer styles so you can see what you work best with.
---